WordLookup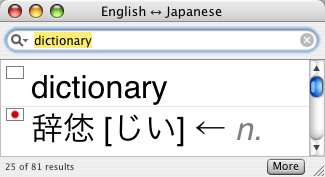 WordLookup
is a bilingual dictionary reader. For Japanese it uses data from the EDICT project coordinated by James Breen at the Monash University in Melbourne Australia. WordLookup allows the user to perform searches on the EDICT data. You will need kana to input a Japanese search or to understand the results of an English search. WordLookup can also read other dictionaries such as English-German and English-Chinese, for details see their site.

WordLookup was once free but since version 3 it is now shareware ($15). As always I'd encourage you to support the author. Unfortunatly in order to search for anything beyond "A" you have to buy a licence.
The best new feature of 3 is that it now stores searches. Very useful when checking the meaning of individual kanji in compounds.