Studio Ghibli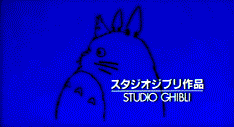 Often called Japan's answer to Disney but it's so much more. It may not have Disney's output but Ghibli's animation quality is the worlds best and has a level of detail that Disney hasn't approached since Snow White. Disney has the global distribution rights to Ghibli films outside Japan.
Nausica Net is an American fansite with detailed information on all Ghibli titles.
My favourites are 耳をすませば、(Whisper of the Heart) and となりのトトロ、(My Neighbour Totoro). Then there's 火垂るの墓 (Grave of the Fireflies) that's in a class all its own.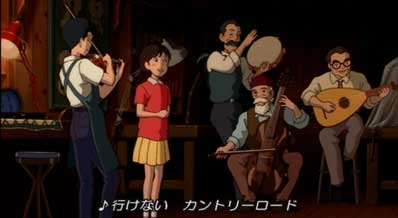 耳をすませば
This is a charming movie about a young girl, Shizuku, just as she is about to enter high school. Its about first love and finding your way in the world. It has Ghibli's recurring themes of growing up and like a lot of Ghibli films has a young girl as the lead character. It is set in modern Japan. Shizuku lives in a small apartment with her parents, a grad student and a librarian, and her older sister a university student. The situations are everyday and the drama is small. The only talking animals are in a dream sequence. This film is firmly in reality. You'll recognise lots of Japanese phrases. I really recommend this, it's uplifting and one of my favourite films. You'll also be humming Country Roads for days afterwards.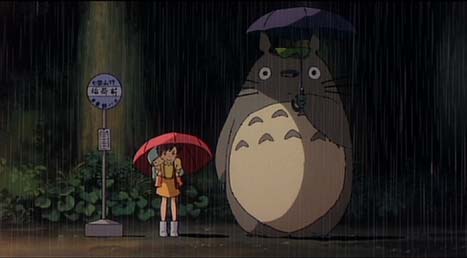 となりのトトロ
I don't know why this film has never been given an International release. Its a wonderful children's film that also has appeal for adults. Set in 1950s rural Japan, a university lecturer has moved to the country with his two daughters to be near his wife who is in a TB clinic. The house has neighbours however, among them a huge bear-like cat creature Totoro and a cat bus (it makes sense in the film!). Again the drama is small but the film is wonderfully observed such as when the daughter walks on her knees in the new house because you don't wear shoes indoors. And there's a beautiful scene in the rain at night while Totoro and the girls wait on their father's bus to arrive.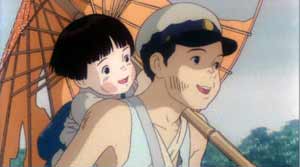 火垂るの墓「ほたるのはか」
Strictly speaking I don't think this film is a Ghibli title. It has finally been released in the UK by Optimum as a two disc set. It was directed by Isao Takahata, the other major animator at Studio Ghibli.
This is a very moving and sad film. The opening line is
「昭和20年9月21日夜ぼくは死んだ」
(しょわ20ねん 9げつ 21にち よる ぼくは しんだ)
"September 21, 1945. That was the night I died."
Set in Kobe in 1945 it is about the ultimately unsuccessful attempt at survival of two orphan children. Seita is a fourteen year old boy left trying to care for his young sister Setsuko after a fire bomb raid on the city. Unable to get along with their aunt they set up home in a hillside air-raid shelter, but with wartime famine, food is hard to come by.
This is an important anti-war film. The American film critic Roger Ebart said "it belongs on any list of the greatest war films ever made." Not something you would think of an animated film but speaks to the films story (based on the true wartime experiences of Akiyuki Nosaka) and how well it is executed. You'd have to have a heart of stone not to respond to this film. All too often war stories are about statesmen and soldiers, heroism and sacrifice but seldom do you see ordinary people just trying to survive and unfortunately ordinary children are just trying to survive wars every day.
I'd encourage anyone to watch this film if they can. Although animation, Disney it isn't, so its probably more suitable for older children and then probably not on their own. It does deal graphically and emotionally with war and death. But it also has a charmingly observed character in the little girl Setsuko and some touching scenes between the siblings.

PS. While using a dictionary to find some kanji about this film I came across this
firefly glow, Auld Lang Syne
蛍の光 [ほたるのひかり]
which perhaps gives another layer to the films title Tomb of the Fireflies.
Other Ghibli films
Whisper of the Heart (耳をすませば), My Neighbour Totoro (となりのトトロ), Spirited Away (千と千尋の神隠し), Princess Mononoke (もののけ姫), Kiki's Delivery Service (魔女の宅急便), My Neighbours the Yamadas (ホーホケキョとなりの山田くん) Porco Rosso(紅の豚) and Laputa; Castle in the Air (天空の城ラピュタ) are available in the UK as region 2 discs. They have both English language and Japanese soundtracks.
Only Yesterday (おもひでぽろぽろ), and Nausica of the Valley of the Wind (風の谷のナウシカ) are due for release, but at the moment are only available as Japanese discs. Fortunately Ghibli has English subtitles on all their discs and some even have English dubs.
I'd recommend any Ghibli film. They are all worth a watch and shouldn't disappoint.