Oxford Starter Japanese Dictionary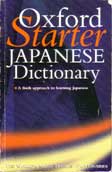 Oxford University Press

This is a good first dictionary. It does use kana to list Japanese entries which can be difficult at first but the sooner you learn kana the better. It also gives the kanji if you want to try using them. The biggest feature of this dictionary are the usage notes. In English to Japanese it will give pointers on idioms and phrases so that you can avoid a word for word un-natural translation. Most entries also have example sentences. There are additional usage notes and basic grammar in a central section. The latest edition also has a new phrases section.
A very useful dictionary.