Electronic Dictionaries
These are small hand held devices. They are either purpose built as dictionaries or you can run a program on a personal organiser such as a Palm Pilot. They are lighter and more compact to carry than a book and much faster to lookup usually.
My recommendation is if you are completely comfortable with kana and have maybe 100 to 200 kanji or so you will find a WordTank useful. Otherwise I think PADict on a Palm PDA is much easier for English speakers and beginners.
Purpose built dictionaries.
These are made and sold in Japan and are for a native Japanese market. That said the ones aimed at Japanese learning English are useful to students of Japanese. However be warned they can be difficult to use and are probably best for intermediate to advanced users. I found my G55 a bit frustrating to use at first. Also you might find them difficult to buy outside Japan. Amazon.jp has them but won't deliver outside Japan. The companies that will seem to charge quite a bit extra to do this. Find a Japanese friend or have a go finding one in Denki Town when you visit Japan. I usually don't find it to be an issue with electronics but any warranty you get will only be valid in Japan.
This site has goodadvice and comparisons of various electronic dictionaries.
Canon WordTank G55
Palm Pilots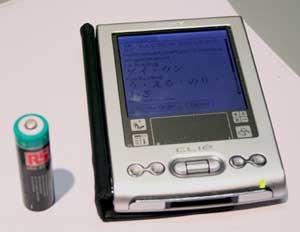 An easier choice for the beginner and those without access to Japan is to use a PDA. These are not as popular as they once were so it might be harder to find one brand new but you should be able to get one second hand at CeX or on eBay for less than £50. I recommend Sony Clies because they have a high resolution screen and are more compact than other makes. Unfortunately Sony has discontinued them. The TJ35 is a good model. The UX50 has a keyboard which makes input easier and I've seen them for £150. However once you get used to it pen based input can be fast.
PAdict
PAdict is the dictionary of choice to run on a Palm system. It's very useful; a full dictionary that will fit in your pocket. It has a small memory footprint for such a large database, 19907 entries version running in about 2MB or 49000 in 6MB, and version 0.9 now allows you to install the full EDICT of 109329 in 12MB. If English isn't your first language there are also French-Japanese and German-Japanese dictionaries. It's really fast at searching and has a variety of input options, English, romaji (converts to kana), kana (using a keypad), by radical and interestingly using kanji writing recognition but your writing and stroke order has to be good. English and romaji are probably the fastest ways to input. kana input needs to be tapped out on a chart which isn't very fast and getting " or °is fiddly. It uses a high res font which looks stunning on a 320×320 screen. Kanji input is reasonably good. There are animated kanji stroke order diagrams which makes the dictionary even more useful. It also has a built in multi choice quiz to build vocabulary and you can set up custom lists to store searches and build up vocab lists. And it's all free.
The Drawbacks. The way JEdict is formatted means that you can get multiple entries with the same English definitions but different kanji. And there are no clues as to which one is correct. You can't do wildcard searches. Also it indexes on the character order in a word which means you can't look up kanji compounds very well unless the kanji appears as the first character. The results are limited to 50 and I'm not sure how they are ranked. This means that sometimes the definition you need doesn't appear in the results even though it is in the dictionary. There are no usage notes.
Nintendo DS
An unlikely place for a dictionary.
If you already own a Nintendo DS, this dictionary is definitely worth a look. It only costs around 5000円, although it can only be bought in Japan.
I was using this recently in Japan. The plus side is good written input; much easier than a keyboard and more useful with unknown kanji. So Japanese to English is fine. English to Japanese is a slight problem. The results are in kanji. This is ok to show to a Japanese person but difficult if you want to know how to read the kanji so you can speak the word. There isn't a jump function so you have to input and look up the unknown kanji.