advfilms
This now defunct publisher of anime has had high production values. They mainly publish TV serials rather than feature films, usually in Japanese language versions. I recommend Noir and Excel Saga.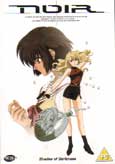 Noir
Noir is an adult (or rather not for children) animation originally broadcast in a late night slot on Japanese TV in 2001. The story concerns a pair of female assassins and their quest to discover their origins, while the dark Scillian brotherhood Les Soldats haunt their every move.
The series is widescreen, moody and atmospheric, excellent soundtrack and quite violent despite the fact that no blood is shown. The character of Kirika is a study in understatement, remarkable for an animated character that has monosyllabic dialogue and almost no facial movements.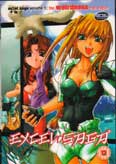 Excel Saga
Another adult anime. Funny, irreverent, crude, sometimes offensive, sometimes obscure but worth a watch. Fortunately it has extra subtitles to explain cultural references, anime in-jokes and Excel's awful puns. Check out how fast the actress, Kotono Mitsuishi, can deliver her lines in the preview at the end of each episode.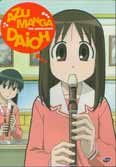 Azumanga Daioh
I like this anime. Set in a school it is based on four panel comic strips that originally appeared in a comic. It has been said they are like Calvin and Hobbes or Peanuts. Very funny. I really like the space cadet from Osaka and the very self centred English teacher. Very everyday situations (and not a mechadroid in sight). The style is of short scenes so this could be one of the better ones to try to learn some Japanese from.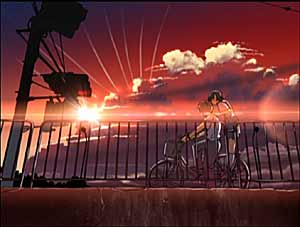 Voices of a Distant Star 「ほしのこえ」
This is almost completely the work of a single animator rather than a studio. It is a poignant story of a long distance relationship conducted by けいたい, made all the more complicated by the effects of general relativity.
It is quite a short film at 30 minutes; so it is probably better to rent it than buy it. Also on the DVD are 3 cuts of a short animation called She and her Cat 「彼女と彼女の猫」which are interesting.
The director has another film which looks just as impressive but I thought the story was just a little weaker.
–update 07Sep09–
ADV seems to be no longer and has sold its assets off.
Maybe a testament to how the Internet has changed how people get their anime