The Japanese Language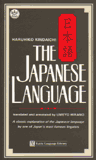 by Haruhiko Kindachi translated by Umeyo Hirano (Charles E Tuttle Publishing 1978)

This isn't a text book but rather a study of the Japanese language, its structures, and its features. It was written in the fifties while Japanese was going through a restructuring by the Ministry of Education. Its a fascinating work and would be of interest to anyone studying Japanese. There's even hope (of a sort) with the revelation that even native speakers can mishear synonyms and pitch accents.