Love Songs from the Man'yoshu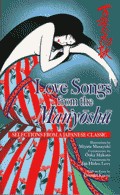 Miyata Masayuki, Ouoka Makato, Ian Hideo Levy, (Kodansha International)

This is a magnificently illustrated book of poems, a wonderful piece of design.
The poems are taken from the "private" works of "The Collection of Ten Thousand Leaves". They are typeset in modern Japanese (the original was written in the 7th and 8th century BC) and are accompanied by an English translation and on the facing page a colour illustration by Miyata. And the illustrations are the reason for this book. They are remarkable as the medium is paper cut outs (kiri-e). Only paper and a knife are used to make them.
Some of the poetry also has a commentary on the text providing insight into these very short poems. They are mainly in the tanka form comprising 31 syllables. This brevity makes the book suitable for someone to practice reading Japanese. It is not as daunting as a solid page of text. Also a lot of the kanji have furigana, and as a last resort there is even a romaji text.