Jazz Up Your Japanese with Onomatopoeia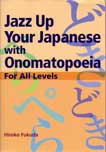 Hiroko Fukuda (Kondansha International)

Another book in Kondansha's series of grammer titles. This time it's all about 擬音語 (ぎおんご) and 擬態語 (ぎたいご). These are those words like べろべろ (a state of total inebriation) and たっぷり (replete). This little book explains the system behind Japanese onomatopoeia; how い sound are light and お sounds are heavy for instance. Then the words are introduced through 11 conversations followed by a complete glossary and extra usuage examples and a quiz to check your progress. For day to day natural usuage this is one of the best books in the series. The only drawback I can see is you might want to overuse these expressions!