Japanese, The Manga Way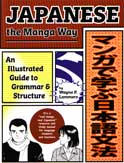 by Wayne P. Lammers, (Stone bridge Press)

This has it's origions in Basic Japanese Through Comics above. However this time it is a more structured and comprehensive course on grammer and usage than before. It can be followed as a course in Japanese, however it is probably more difficult than a standard text like Japanese for Busy People. I think it is better as a way of reinforcing and expanding what you have learnt in class. It uses kanji as well as romaji and all the examples are from Manga. However there are no other reading excercises or comprehension tests.