Japanese for Busy People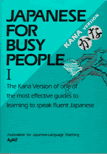 by AJTS

THE textbook. Its probably best to bite the bullet and get the kana version from the start.
Recently, AJTS has revised this series of textbooks, so it's best to look for the 3rd edition. They now integrate more workbook content and come with a CD of all the dialogues. The structure of the course is also better with 4 chapters comprising a Unit based around a single theme.
My only complaint would be that Biji-san has gone and the drawings have lost a little of their humour as a result.