Easy Japanese Crosswords Puzzles: Using Kana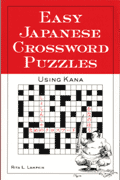 R. Lampkin, (Contemporary Books)

This is an inexpensive book of 47 crosswords. 24 are Japanese to English and the remainder are English to Japanese. If you already have some vocabulary they are are a fun to revise and figure out new words by trying to fill in the blanks.
If you haven't managed to master kana a romaji version is also available. One note though the book uses American spelling so it's color not colour. etc.