Basic Kanji Book vol 1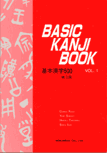 Chieko Kano et al. (Bonjinsha Co. Ltd.)

To be literate in Japanese you need to know kanji. And to read at university level you need to know about 2000 of them. This is where to begin with a first 250.
This text takes a similar approach to Self Study Kana Workbook. It introduces about 10 related kanji per lesson and you learn them by copying model forms. Then use them in reading and writing exercises.
I like this books approach.