Basic Japanese Sentence Patterns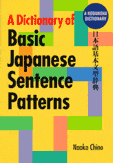 Naoko Chino, (Kondansha International)

Another small book by Naoka Chino.
This one gives formulae for sentence construction. At its most simple this is Noun1 は Noun2 です。Noun1 is Noun2. Insert your own nouns and make lots of sentences. As there are 50 patterns some of them can get fairly complicated. But usage is explained, variations are pointed out and lots of examples are given, of polite and informal speech and of male and female speech.
I don't really think about how my sentences are structured in English, they just happen. Usually they sound ok and I hope they make sense but I've had years of practice. I think I'd find it hard to parse them. (Even then I'd probably rely more on the Latin and French I know). Japanese sentences are different (and new to me) so it's very useful to have such clear examples of how to construct them specifically made so that I can reuse them to say what I want.