All About Particles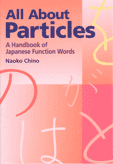 Naoko Chino, (Kondansha International)

This is a small book describing 69 different particles.
The entries are roughly in order of how frequent they appear in speech and are loosely grouped by usage. Each entry lists the different usages of a particle and gives clear examples. Different usage by men and women is also given.
As verbs, nouns and adjectives are relatively straightforward perhaps particles (and counters) are the difficult part of Japanese that requires study. They usually aren't listed in dictionaries in a way that will help you use them. For example my starter dictionary has 2 pages of a quick overview of 17 particles with no examples. よ is given as adding emphasis to a statement. Compare that to the 4 usages and 8 examples of a page and a half in this book.